On April 14-19, 2023, the European University Hockey Association (EUHA) and the Szeklerland Ice Hockey Academy will organize the World Cup of University Hockey 2023 in Karcfalta, Romania.
The European University Hockey Association (EUHA) from Europe and the American Collegiate Hockey Association (ACHA) from the United States will be represented by 8 countries (USA, CANADA, ROMANIA, SLOVAKIA, CZECH REPUBLIC, POLAND, SWEDEN, HUNGARY) that will compete in international university ice hockey world championships.
The best hockey players – students, taking part in European and North American leagues will take part in the World Championships in Romania. The Polish team will be led by the current coach of UHT Sabers Oświęcim Lubomir Witoszek, who together with the training staff of the Polish U20 and U18 teams will select 23 players representing Poland.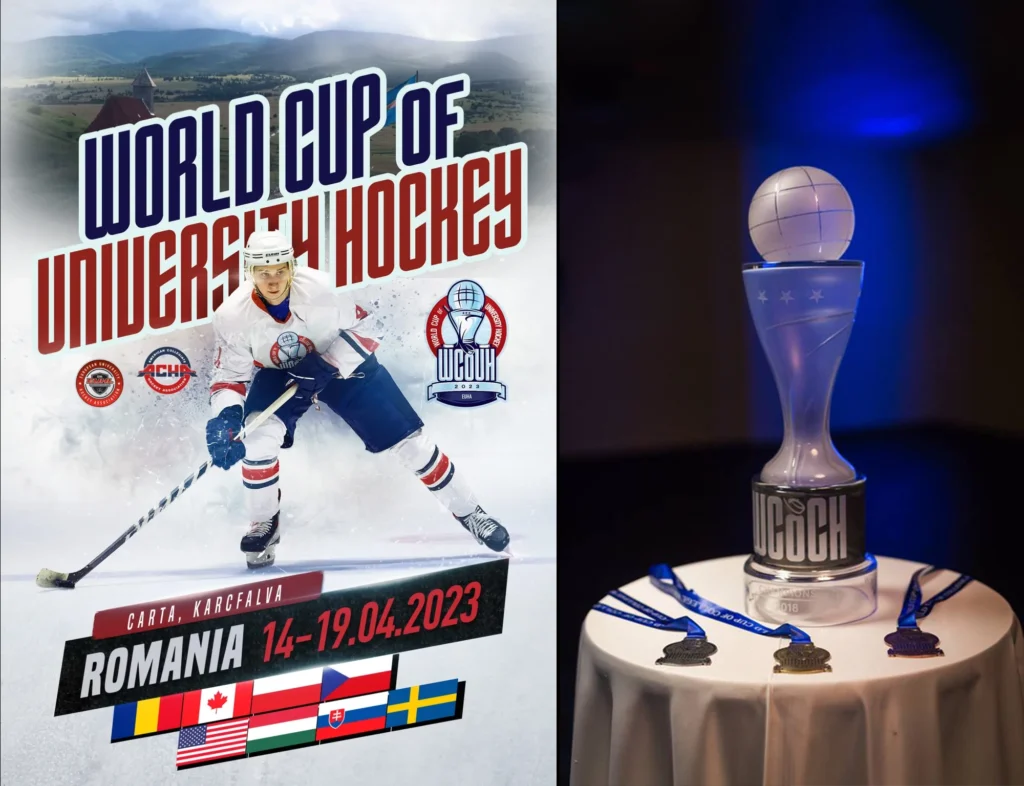 All teams will have the opportunity to take part in several exciting, high-level hockey matches. This event will also be an opportunity to exchange best practices in the development of university hockey leagues, organization of sports events and addressing the most important aspects of academic and sports life of students who want to successfully build their sports and educational careers.
During the World Championship, the teams will be divided into two groups:
Group A
🇺🇸 USA
🇸🇰 SŁOWACJA
🇸🇪 SZWECJA
🇭🇺 WĘGRY
Group B
🇨🇦 KANADA
🇨🇿 CZECHY
🇵🇱 POLSKA
🇷🇴 RUMUNIA
Each team will play three group matches. At the end of the group stage, the two teams from each group with the most points will advance to the semi-finals. The two teams that successfully progress through the semi-finals will then face off in the final on April 19, 2023 for the University Hockey World Cup.
All matches of the 2023 University Hockey World Cup will be played at the Felcsíki ice rink in Cârța and will be broadcast live worldwide. Links to the live broadcast will be published in the near future.
"We look forward to a productive and successful partnership between ACHA and EUHA. We are confident that the participation of all federations in this event will bring great results for the further development of college hockey around the world." – the board of the EUHA.